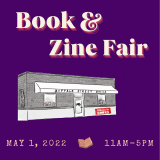 Tue, 04/26/2022 - 11:19
Two craft shows: bringing books and zines to Lewiston and Ithaca!
It's so nice to see folks choose the book that's perfect for them, so I'm looking forward to participating in two craft shows this weekend. In addition to meeting new people, I can't want to see what the other vendors have to offer.